TOPER INTERNATIONAL
AT HOME WORLDWIDE
The world brands' choice
For many years, many well-known coffee roasters and coffee makers trust Toper products in Turkey and abroad.
Toper friends in the world
Toper is present in 5 continents, in 132 countries. Some customer:
Artisan Roast, Black Cat, Boca Java, Bradford Roasters, Cafe Brossard, Cafe Roma, Coffee Republic, Cool Beans Roasters, Dil'oco, El Cafetero, Jim's Organic Coffee, John's Coffee, Karma Coffee, La Hacienda, Mocha Beans, Mr. Coffee, Portland Roasting, Raw Coffee, Salotto, Shaheen Coffee, Single Origin Roasters, Starbucks Coffee, Tchibo and Van Houtte, Hanedan, Kurukahveci Mehmet Efendi, Panda, Pizza Pizza, Sözer, Şölen, Tuğba Kuruyemiş and Ülker.
Toper in the world fairs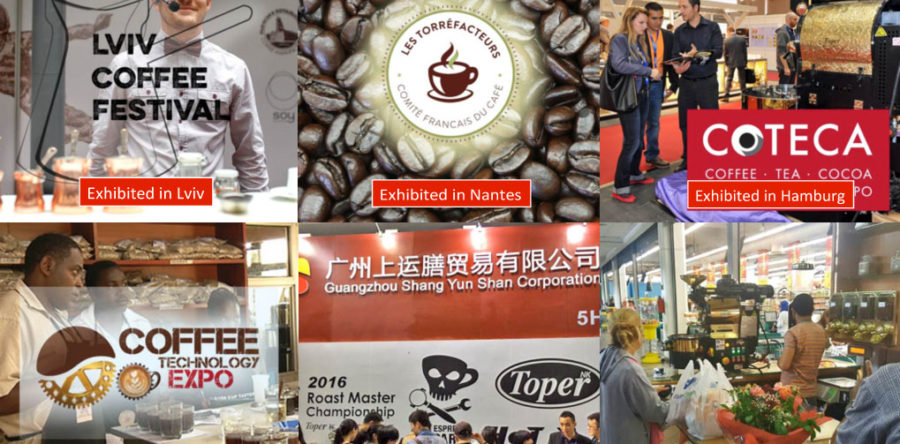 Considering face-to-face contact opportunities with the customers important, Toper participates in the most important fairs and trade shows in 5 continents.
Leading visitors of the coffee sector meet Toper fair stands at various countries as Canada, Russia, Austria, USA, Korea, Germany, etc.
You may follow Toper in leading international fairs and trade shows.